Learning to laugh off heartbreak
---
BY TARA SMITH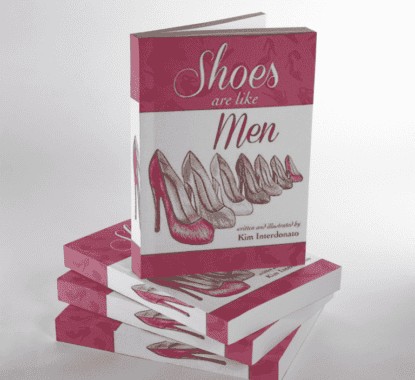 We've all been there. The "it's not you, it's me," or "we need to talk." Or maybe you've been dumped via text. Regardless of the how and why, breaking up is never fun.
Your friends remind you not to take it personally, that the right person is out there. Despite their pep talks, breakups and failed relationships can leave you feeling low. No stranger to navigating the aftermath of heartbreak, Kim Interdonato, 45, of East Patchogue has just published a book on dating.
It's not a how-to or a self-help book, but a whimsical read that compares shoes to men from her past. "I'm the furthest thing from a writer," Interdonato admitted ahead of a recent book signing at Stella Trattoria & Bar in Blue Point. "I was driving out east one day, just feeling sorry for myself after some bad dating experiences. The only common thing in the equation of all these breakups was me."
This summer proved to be a time of healing and self-reflection for Interdonato, who grabbed her laptop and typed for hours in coffee shops, East End restaurants and overlooking the water. If she didn't have her laptop in tow, she would jot down notes on scraps of paper or napkins. "I was cracking myself up while writing; it was very therapeutic," she recalled. "Sitting around and feeling bad for myself wasn't cutting it anymore."
The first-time author wrote nonstop for six weeks and even self-illustrated the 42 pages. Those musings eventually became "Shoes Are Like Men," a short, hysterical read published last fall by MindStir Media.
The idea to compare dating to trying on shoes sprung from a conversation Interdonato had with a close friend, Rose. While lamenting over dating woes, Rose offered some insight. "[Rose] told me to think of dating like trying on shoes. When it doesn't fit, you don't buy the shoe," she said.
Interdonato's love for shoes runs deep. "I was always a plain Jane," she admitted, explaining that she has struggled with self-image in the past. "But I have great legs," she said, attributing them to her 25-plus years as an ice skating instructor. "So shoes are a way for me to boost my self-esteem."
In the book, Interdonato matches up various types of shoes to past dates. Ice skates, however, were purposely left out. "I wanted the book to be relatable for all women," she said. If she were to compare a suitor to a skate, Interdonato said that he would be a well-balanced guy. "[The skates] are really comfortable, and you have to be able to balance," she said.
There was a time she struck that balance with a fellow ice skater. The two were married for several years, and have a son, Luke, 8. Since divorcing her ex-husband, Interdonato has been on her fair share of dates, while adding shoes to her closet.
Read the rest of the article https://www.longislandadvance.net/4147/Learning-to-laugh-off-heartbreak